Day 10: Coffee Talk
Fashion's Peak
What began as a small mining camp during the Colorado Silver Boom of the late nineteenth century has since become the preferred getaway of the world's elite. Treasured for what's above ground rather than below, Aspen, Colorado has a storied history almost as dense as the directory of A-listers. This chic book features works by the consummately stylish artist Herbert Bayer.
Need for Speed
Since being introduced in 1968, more than 5 billion Hot Wheels cars have been produced, making it the number-one toy in the world, with 10 cars sold every second. Filled with energetic imagery, including a work by Andy Warhol, Hot Wheels vibrantly conveys the rich panoply of dynamic designs and thrilling experiences of this quintessential American toy.
Chow Down
With 11 restaurants around the world, Michael Chow has spread Chinese haute cuisine throughout the West, and created a gathering place for stars to mingle, eat, and party. Renderings of the Chow family by the likes of Andy Warhol, Julian Schnabel, and Jean-Michel Basquiat convey Chow's status in the artistic community.
No Time Like The Present
As the old slogan went, "America runs on Bulova time," and subsequently so does the world. Bulova: A History of Firsts chronicles the extraordinary American watch company by recounting a multi-generational epic that runs from the Gilded Age up through present-day New York City. The title features eight visually captivating chapters that include works by Andy Warhol.
Puttin' on The Ritz
In the heart of the City of Light, the Ritz Paris shines. Behind the luxury, service, and décor lies the vision of one man, César Ritz, who revolutionized the hotel business to become both an art and an industry titan. Featuring works by Christian Berard this tome makes an excellent stocking stuffer.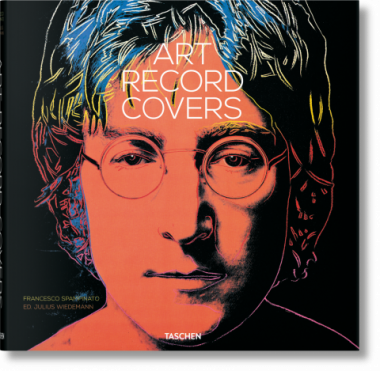 Rock On
Art history acquires a new rhythm in this unique anthology of artists' record covers from the 1950s to today. Featured covers include Salvador Dali's skewered butterfly for Jackie Gleason and Damien Hirst's symbolic skull for the Hours.
Cheers!
There's no better way to ring in the New Year's then with a little bubbly. Setting the standard on fine champagne, Veuve Clicquot has been there to celebrate with us for the last 250 years. Lets raise our glasses and toast to this classic with a stunning book that looks perfect under any tree. Including work by Pablo Reinoso, Campana Brothers, Langlands & Bell, Cedric Ragot and Marc Chagall.
J'adore
Of all the great Parisian couture houses, Dior is perhaps the most famous and prestigious in the world, embodying Christian Dior's sublime vision of femininity, which Saint Laurent elaborated and evolved into the beginning of the tumultuous decade of the 1960s. The jewel of a book features works by Henry Clarke.
From A to B and Back Again
This gilded tome is the first to examine Andy Warhol's work in its entirety. A perfect present for the Midas in your family.
Street Cred
Explore the history of graffiti and street art with the companion catalogue to the groundbreaking Beyond the Streets exhibition. This mammoth publication includes work by Henry Chalfant, Jenny Holzer and Gordon Matta-Clark. See here >>